Drywall nail machine production line
Views: 9 Author: Shirley-Guan Publish Time: 2021-07-22 Origin: Site Inquire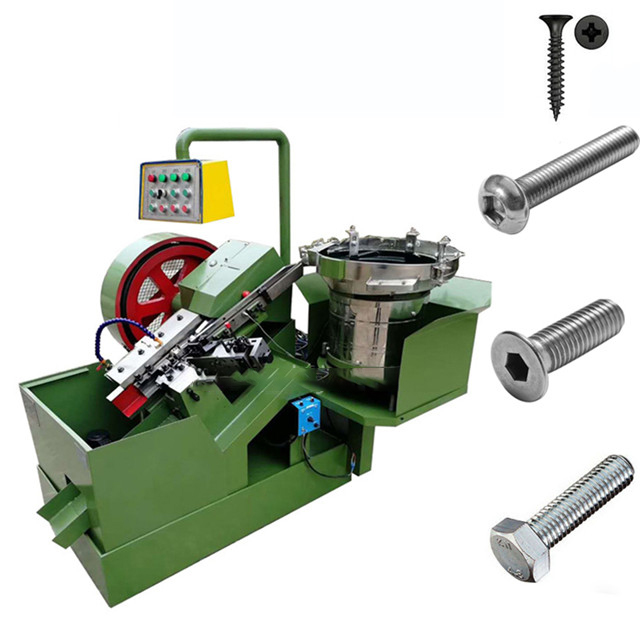 Self tapping drywall MDF screw making machine /cold heading machine
thread rolling machine
Note: Our company is specialized in various machines for making screws, bolts, nuts, and nails. If need any of them, welcome to contact us at any time.
1. Automatic Cold heading machine
This equipment adopts cold heading way to make the wire rod upsetting by double-click the whole mould form. Finished Feeding, straightening, cutting material, forming, discharging by one machine.
2. Full automatic thread rolling machine
This equipment adopts two thread profile thread rolling plate staggered 1/2 screw distance design, dead plate is fixed, movable plate equal to dead plate do straight line motion back and forth, when the work piece feed between two plates, movable plate move forward twist work piece, make its surface plastic deformation into thread.
Thread rolling machine is portable, flexible, high efficiency and has some irreplaceable advantages compared with similar equipment, avoid the limit of lathe, drill or hand tapping, save time, labor, not easy to rotten teeth, screw tap not easy to break off.
The machine is easy to operate, convenient to maintenance, which greatly decrease the technical requirements for workers.
Anping Factory
West of Chengyouzi Village ,Anping County ,Hebei Province ,China
Shijiazhuang Office
Adress:Room 903 Unite 1 Building 1 Guojimingdi,No.148 east of yuhua Roda,Yuhua district, Shijiazhuang City, Hebei Province.
Tel:+86-311-89275606 / 89807595
Fax:+86-311-85030301
Cel:+86-15303230155/ 15531105999
Skype:fencewiremesh05
E-mail:
sales0
6@fence-machine.com
If you have any questions, please send us a message!