Welded Wire Panel Making Machine Made in China
Views: 14 Author: Bella-sales07@fence-machine.com Publish Time: 2017-10-18 Origin: Bella-Welded Wire Panel Making Machine Made in China Inquire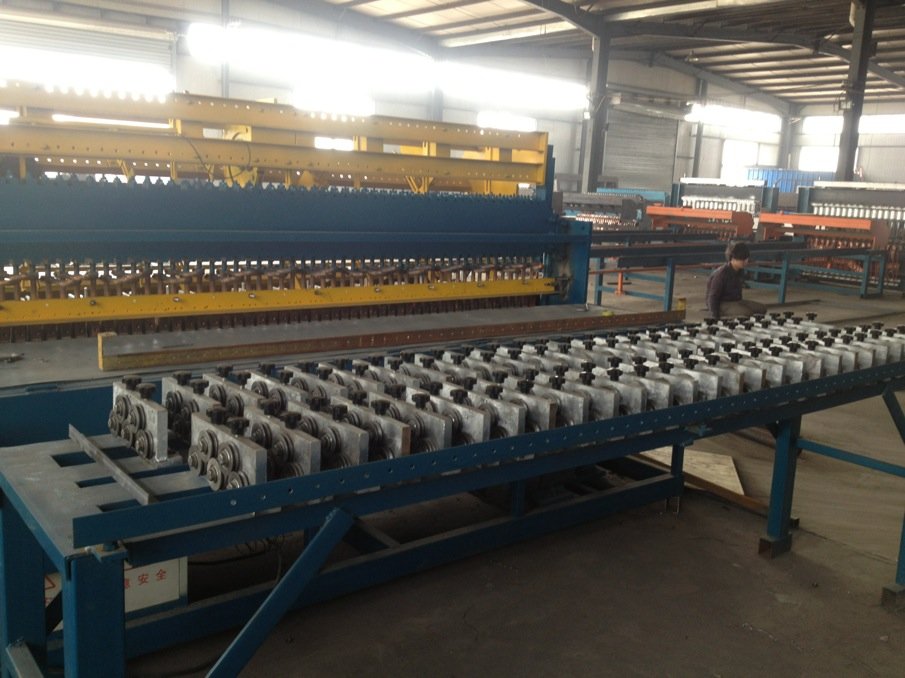 I Characteristics Of Steel Wire and Rebar Mesh Machines :
1.This Rebar Mesh Welding machine is our latest developed reinforcing mesh welding machine.
2.The line wire and the weft wire are pre-straight and pre-cut. The line wire is feeding by the servo motor ,pulling the wire net by the servo motor auto. The welding power comes from the cylinders. It's easy to control the welding pressure .
3.The weft wire feeding from the multi hopper which capacity is more over ten times than the traditional hopper. The Rebar Mesh Welding machine added the bear wire net and carry equipment that makes the working more convenience . The welding part is used the springiness input wire trunking that makes the welding copper use for long time.
4.This Rebar Mesh Welding machine adopts synchronous control technique. The cent-control and welding time are composed of PLC program system. The input front-panel is touch screen , the operate is more intelligent and reasonable.
II Main technical data Of Steel Wire and Rebar Mesh Welding Machines :
| | | | |
| --- | --- | --- | --- |
| Wire diameter | 5.0-12mm | Line wire form | pre-cut wire |
| Weft wire distance | Mini 25mm | Weft wire form | pre-cut wire |
| Line wire distance | 100-300mm | Rated voltage | 380V |
| Welding net width | 2500mm | Rated power | 125KVA X 12 |
| Welding speed | 45times/min | Overall dimension | 24 X 6.0 X 2.65M |
| line wire No. | 24 | Length wire net | 6000mm |
Any inquiry of Welded Wire Panel Making Machine, pls feel free and contact us at any time:
Email:sales07@fence-machine.com
WhatsApp/Wechat:0086-18032888725
Skype:fencewiremesh16